Good afternoon and welcome to Fridays Weather Watch taking a look at the weather for the islands, the UK and around the Globe.
On this Friday afternoon we are seeing a mixture of sunshine and cloud. A few showers around but most places are dry. A brisk wind is keeping things cool. Todays max temp so far of 14.3C. Winds are mainly under 20 mph with some gusts reaching 30 mph.
We are now going to take a look at the next few days weather. All the images shown below come from the Met office and can be found by following this link https://www.metoffice.gov.uk/weather/maps-and-charts/surface-pressure
Western Isles – (UK outlook follows below)
Saturday – high pressure moves across the Western isles. We are going to see mainly fine dry conditions. Sunshine and cloud. The odd scattered shower cannot be ruled out. It will feel cool again in the North and North East wind. Winds of 0 to 20 mph and temps of 7C to 13C
Sunday – High pressure dominates the weather across the Western Isles. A mixture of sunshine and cloud. A few scattered showers. Chilly night overnight slight risk of frost. Winds will be light.
Monday – High pressure slides to our East and we slowly start to see weather fronts move in from the West. Winds will increase as the day goes on. A mixture of sunshine and cloud with a few evening showers. It will feel milder as the day goes on.
Long range – Across the islands and conditions will turn more unsettled with increasing amounts of wind and rain. It will however turn milder.
UK Forecast
Saturday for the UK and we will still rain and stronger winds for the East and South East of England. Feeling cool with a mixture of sunshine and showers elsewhere. Sunday and Monday mainly fine dry and sunny but still on the cool side with the risk of some overnight frost in spots for Scotland. Rain and winds increase for West Scotland, Northern Ireland and Wales as we move into late Monday night.
UK Weather News
Bad flooding last night in West Lothian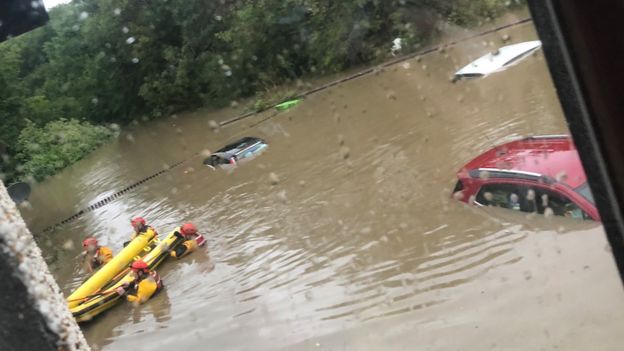 BBC News has the full story
https://www.bbc.co.uk/news/uk-scotland-edinburgh-east-fife-53938789?fbclid=IwAR341eoCTZXjftGsnGBEjuaR6JL96z1GMOd9zdiXOY-HpIFPuxtOLp4DUiw
A Met Office yellow weather warning remains in place for Yorkshire and Teesside until 2000 this evening
A Met Office yellow weather warning for thunderstorms remains in place for England and Wales as well.
Full details can be found here https://www.metoffice.gov.uk/weather/warnings-and-advice/uk-warnings#?date=2020-08-28
Multiple waterspout photos have been captured
Global weather news
The impacts from Hurricane Laura are still being felt and will be for many months to come. The final advisory was issued earlier today. We take a look back at some of the impacts and how this Hurricane ranks.
The Lake Charles radar did not fare well as Hurricane Laura rolled through during the overnight hours. (Image from Brett Adair)
Toppled concrete pole – Tim Marshall
Thank you for reading. I hope you have enjoyed it. Feedback is always welcome.