We are rapidly heading towards the time of the year when we get most of our severe weather with storms, snow, ice and thunder lightning. This blog is going to be a guide to show you all the tools that are available in the process of getting ready for severe weather. As always I will keep you updated with forecasts on a daily basis and extra posts when severe weather is incoming, sharing information across our social media platforms and this blog.
You may say we get severe and extreme weather every winter and you are used to it, Whilst this maybe true different weather events can have different impacts. Some years are worse than others. Every year new people arrive on the islands and have never experienced an island winter before.
Severe weather in the past has resulted people having to be rescued. There also have sadly been instances of people being injured and tragically people have been killed.
https://www.bbc.co.uk/news/uk-scotland-highlands-islands-41021743
This is why it is important to be prepared.
In the 16 years I have seen many severe weather events in the Western Isles. The 2005 and 2015 storms with winds in excess of 113 mph. Heavy rain which has caused flooding in Barra, Lewis and Lochboisdale. Snow events of 2009/10. Thunderstorm events of June 2020.
Met Office
So the first place to start is with Met Office warnings. They get issued by the Met Office based in Exeter. I share all warnings and they are issued on impacts rather then on criteria. I don't always agree with them but would never share anything else or issue my own warnings. It is all about consistency and should only come from an official source. It is a really difficult and challenging job the forecasters do when issuing warnings.
There are 3 colour levels of warnings the below is from the Met Office website
What do the colours mean?
The Met Office issues weather warnings, through the National Severe Weather Warning Service, when severe weather has the potential to bring impacts to the UK. These warnings are given a colour (yellow, amber or red) depending on a combination of both the impact the weather may have and the likelihood of those impacts occurring.
Yellow and Amber warnings represent a range of impact levels and likelihoods. This means it is important to read each warning to know what level of impact you can expect for your chosen warning area – and how likely those impacts are to occur.
These impacts can include damage to property, travel delays and cancellations, loss of water supplies, power cuts and, in the most severe cases, bring a danger to life.
We show this combination of impact and likelihood in a matrix, which can be seen in the Further Details section of our warnings. To understand how likely we think the forecast impacts are, always check the matrix to see which box has been ticked.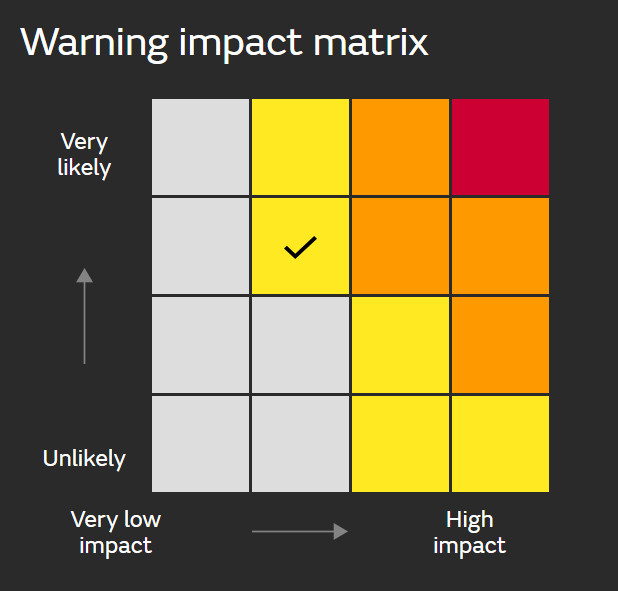 We mainly get yellow weather warnings, So far this year so far we have had 24 warnings with the highest number being for wind. No Amber or Red warnings. We tend to get 1 or maybe 2 Amber warnings a year and in the 8 years of Western Isles Weather a red warning has never been issued.
Below is what each of the colours mean
The warnings can be for – Wind, Rain, Snow, Fog, Thunderstorms and Ice. Sometimes dual warnings can be issues such as wind and rain. These warnings can be accessed via the Met Office app or website or you can sign up for email warnings to you inbox.
This and more can be found on there warnings page https://www.metoffice.gov.uk/weather/guides/warnings
SEPA
The Scottish Environment Protection Agency issue flood alerts, warnings and severe flood alerts for the Western Isles. They can be issued for storm surge flooding or for surface flooding for prolonged periods of rainfall.
To get flood updates you can phone them up to get the latest information or you can sign up to the alerting service. You will get a text or a phone call voicemail when an alert or warning is issued. Below is the floodline number.
Here is an example of a flood alert that SEPA they can issue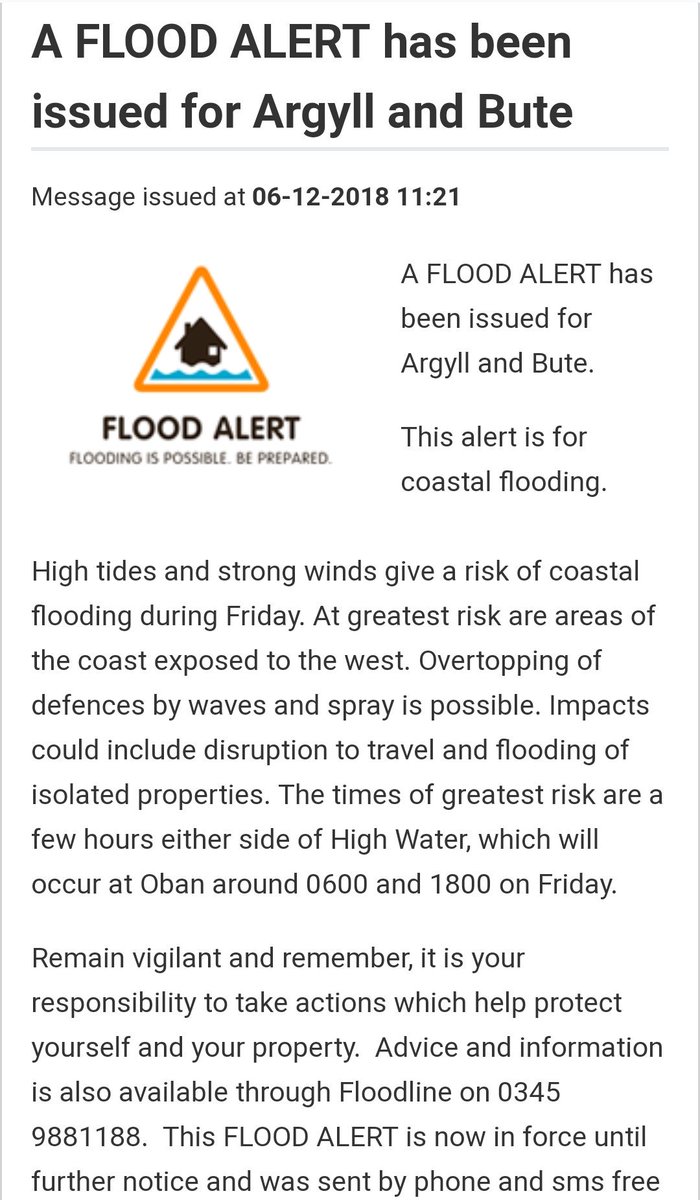 All this and more can be found here https://floodline.sepa.org.uk/floodupdates/
SSE
SSE will issue updates and information in the event of power loss. Long lasting power cuts are rare. When I say long during the bad storm of 2015 some homes were without power for more than 5 days. But that is on the extreme end. It is usually a few hours with pockets off for longer periods. They are normally very good at getting the power back on quickly. Before big storms there are times when extra engineers are sent over to the islands in preparation for the bad weather.
In the event of a power cut you can call 105 and this will put you through to SSE – I have always found them very helpful and in the event of a major power cut sometimes and automated message is posted.
There is also the SSE power track app and map on the website. You can log issues with the app and find out estimated times of the issue being fixed.
More on this can be found here https://www.ssen.co.uk/powertrack/
SSE also runs a priority service which includes amongst others people with young babies or depending on power for medical care etc. Again more can be found here https://www.sse.com/news-and-views/2015/01/priority-services-helping-our-customers-who-need-it-most
Western Isles Council
When severe weather is forecast emergency planning meetings are convened if required and feature all the agencies and emergency planning officials.
Decisions can be made on School Closures, Bus Cancellations, Refuse collections etc and liaising with the Met Office SEPA etc about the impacts to the Western Isles and the population.
When this happens the council will release disruption to service notices. Which are posted out on there Twitter and Facebook.
Below is an example from Storm Brendan
Emergency services
They all work closely together: Including road closures; Movement of emergency personnel; patrols of causeways etc.
There are a number of causeways that can be closed during severe weather. Updates for this can be posted by Coastguard facebook pages. Police Scotland on Twitter and Facebook.
If you see someone in difficulties along coast or sea dial 999 and ask for the Coastguard.
Useful Links.
Western Isles Council – Facebook – Comhairle nan Eilean Siar Twitter – @cne_siar
Emergency Planning – Twitter @WesternislesOEM
SYCRT – Facebook Stornoway Coastguard Rescue Team
Coastguard – Facebook – HM Coastguard – Western Isles, Skye and Lochaber – Twitter – @HMCGAC18 and Facebook – HM Coastguard South Uist & Eriskay
Police – Facebook Highland & Islands Police Division Twitter @Wislespolice
Now is the time to get ready. Securing loose items in the garden etc. Trampolines are one of the main items that gets damaged. We haven't had a 60 mph storm since mid summer.
I hope you have found this guide useful. I will post as many updates as possible during extreme weather and keep you up to date as much as possible.
Please DO NOT use Western Isles Weather for the protection of life and property. Please have one or more methods of getting extreme weather information. Please follow any and all instructions given by Emergency Services and Government advice.
This guide is not endorsed by any company of organisation. But I hope you found it useful.