Hello and welcome to a look back at our weather in February 2021 – We cover the Western Isles and take a look at the rest of the UK's weather further down in the blog.
It was a month of two halves. The first half of the month started off cold with further ice and snow. The second half of the month turned stormy and finally more settled at the very end of the month.
Stornoway airport and South Uist Met Office site stats.
Stornoway Airport had recorded 62.7 hours of sunshine during February. The sunniest Febuary since 2018 which had 89.2 hours of sunshine.`
There was 114.4 mm of rainfall in January the driest since 2018 which had 79.6 mm of rainfall.
South Uist had 86.8 mm of rain during the month.
SEPA rainfall Gauges in the Western Isles
Due to a cyber attack at SEPA we have no data.
Daily Records
We had one daily record during the month of February.
On this 7th Stornoway was the sunniest with 3.9 hours of sunshine.
Weather Warnings year to date
We had nine weather warnings during the month of February. 6 for wind and 3 for snow and Ice.
The total number of weather warnings to date for the year for the Western Isles stands at 13.
Yellow – 13
Amber – 0
Red – 0
A further break down of the warnings.
Wind – 6
Snow and Ice – 8
Rain – 0
Thunderstorms – 0
Wind and snow – 0
Ice – 2
The highest and low temps of the month
Stornoway 10.6C and South Uist 10.7C
Stornoway -1.4C and South Uist -2.7C
Winter for the UK from the Met Office
Most of the UK was above average for rainfall for winter away from the far North West of the UK.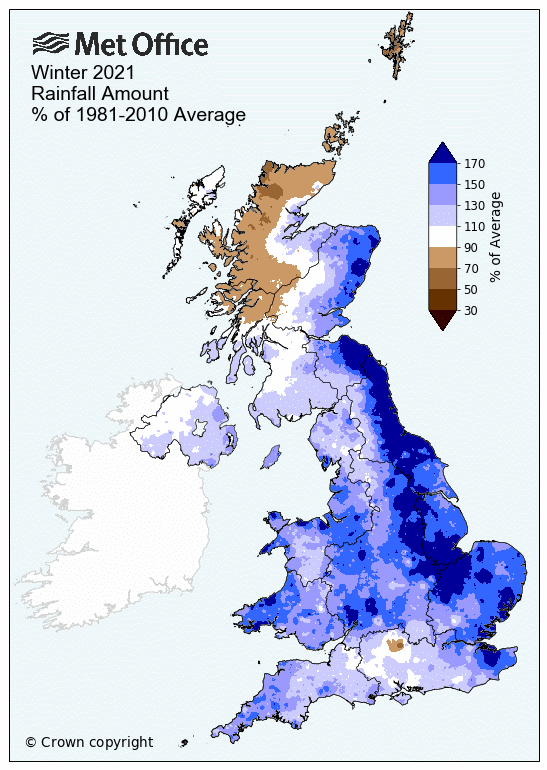 Again Scotland came on top for more sunshine then on Average with plenty of sunshine during winter compared to average. Shetland at 154% above average was a notable standout.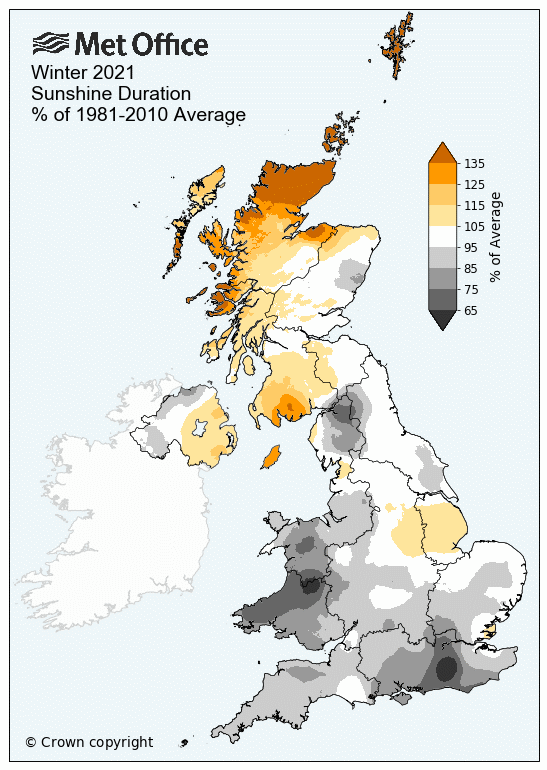 The month of February had temperature contrasts with -23C at Braemar on the 11th February and 18.4C on the 24th at Santon Downham.
more here https://www.metoffice.gov.uk/about-us/press-office/news/weather-and-climate/2021/2021-winter-february-stats